OVERVIEW
FLEX is Kegel's most sophisticated and technologically advanced lane machine and its modern design makes a bold statement. The DUO conditioning system under the lid backs it up by combining Sanction Technology with dual conditioner tanks, making it the only lane machine to give you the benefit of easily using more than one lane conditioner in your center. Use one conditioner, two conditioners, or even mix compatible conditioners - all in one pass!
What if you use Fire or Ice lane conditioner for your house pattern, but your bowlers want to practice on Current for an upcoming tournament?
What if you want to use a high performance lane conditioner like Current for your competitive bowlers, but would like to switch to a conditioner like Prodigy for open play?
With the FLEX you can easily customize the bowling experience for your customers. Welcome to the FLEX Generation.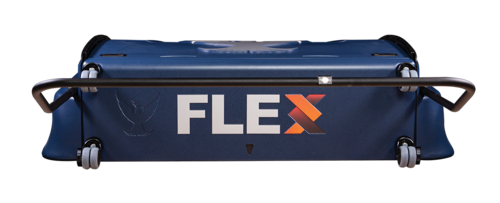 FLEX FEATURES
New for the 2018 FLEX!
Home screen shows "2018" to represent the model year of the machine.
Wireless connection will now be a Wi-Fi device instead of the Bluetooth device.
For the FLEX Walker, a redesign of the current whisker system to accommodate many different styles of capping.
A beam style sensor is used for the fail-safe instead of switches. This improves the response time to return the machine when the fail-safe is being used and/or needed.
Special Features
Pin Deck treatment spray system (for use with the new Spot On Pin Deck Spray)
Easy sliding detachable lid assembly
FLEX Conditioning System
DUO conditioning system

Two conditioner pumps
Two conditioner cartridges

DUO transfer system

Enhances the smoothness of the pattern
Residual oil burns out quickly for easy pattern changes

Two pre-filled or refillable conditioner cartridges allows
for separate conditioner on forward and reverse pass
Ability to alternate two compatible lane conditioners in one pass
Per load adjustable micro-liter streams per for more control within each pattern
FLEX Cleaning System
Quick change squeegee assembly allows you to easily change the blades in a fraction of the time
Change the cleaning solution output percentage from inside the oil pattern to the back-ends for each pattern or for all
Proven Sprayless Cleaning System
Easily monitor and adjust cleaner output as desired
FLEX Drive System
Dual Drive System for better tracking
Patented six drive speeds for best taper control
Independent adjustable cleaning speeds
LED arrow for better operator positioning
FLEX Touchscreen and PLC
Full color 5" touchscreen
Three program choices for both AM and PM
Stores 30 programs on board
Test input/output menu option
Detailed error messages with help screens
FLEX Batteries
Single lightweight battery
External battery charger
Three battery options based on number of lanes
conditioned per day
FLEX Warranty: Receive an 18 month warranty (excluding wear items) with an additional 18 month bonus warranty if you agree to only use Kegel lane maintenance products in your machine.