OVERVIEW
The IKON is a battery powered combination lane machine (cleans and conditions) that incorporates Kegel's proven technology with the modern styling of the FLEX.
The IKON uses Sanction Technology for the conditioning system which is reliable, verifiable, and accurate to ±1% with continued precision of ±0.5% after millions of cycles.
For cleaning, the IKON utilizes a sprayless system, which cleans the lane without any overspray into the gutters keeping your customers and pinsetters cleaner.
Kegel's patented conditioning and cleaner systems are the only ones on the market that can be checked and verified before you begin lane maintenance - now that's peace of mind.
.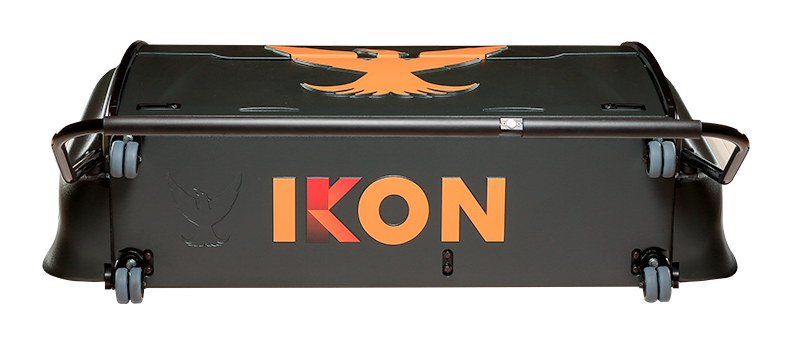 FEATURES
Home screen shows "2018" to represent the model year of the machine.
Wireless connection will now be a Wi-Fi device.
Conditioning System with forward and reverse capabilities.
The popular and easy to maintain DUO Transfer System enhances the smoothness of the pattern and allows for easy pattern changes.
Patented Sprayless Cleaning System - No overspray in the gutters.
The on-board PLC uses a 3.5 inch color touchscreen to make it easy to monitor and adjust machine settings.
The IKON PLC holds 15 patterns of your choice.
Choose from 3 different size Lithium Ion batteries based upon your bowling center's needs or number of lanes ran per day.
TECHNICAL SPECIFICATIONS
Packaging: One machine per crate
Part Number:

17-5900 (115V/60 Hz)
17-5950 (230V/50 Hz)

Weight without the battery: 330 lbs (149.7 Kg)
Battery Specifications

158-1634 (Red) 25.6 Ah | 24 lbs (10.8 Kg)
158-1634B (Orange) 38.4 Ah | 29 lbs (13.1 Kg)
158-1634C (Yellow) 51.2 Ah | 39 lbs (17.6 Kg)